We're Alaska-based publishers of Alaskana, biographies, fiction, and children's books.
Alaska Wildlife Photography
Visit our sister site Fathom Twist for videos of Alaska Wildlife, birds, animals, insects, and plants.
---
Recent Awards
Free Printable Activities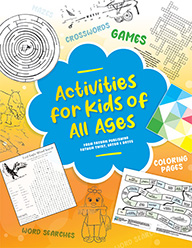 Our gift to you. This free download packet includes over thirty book-based printable activity sheets for kids of all ages.
Featuring Alaska and Alaskan animals, Arctic dinosaurs, and more.
Kids will enjoy games, coloring pages, crossword puzzles, word searches, and a variety of fun and educational activities.
More info here.
Make your own Photo Booklet
Use an online form to create and print an 8-page booklet with your own images.