We're Alaska-based publishers of Alaskana, biographies, fiction, and children's books.
Alaska Wildlife Photography
Visit our sister site Fathom Twist for videos of Alaska Wildlife, birds, animals, insects, and plants.
---
Recent Awards
Free Printable Activities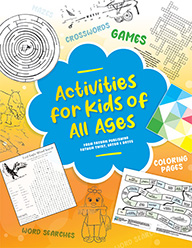 Our gift to you. This free download packet includes over thirty book-based printable activity sheets for kids of all ages.
Featuring Alaska and Alaskan animals, Arctic dinosaurs, and more.
Kids will enjoy games, coloring pages, crossword puzzles, word searches, and a variety of fun and educational activities.
More info here.
Recent Publications
Alaska Cruise 1909
Cruise Alaska aboard the Steamer Northwestern and discover what it was like to travel to Alaska in the early 1900s. These are the stories told by America's writers and editors as they visited Alaska's cities, glaciers, mines and farmlands at the end of the Alaska-Yukon-Pacific Exposition of 1909.
Read more about Alaska Cruise 1909 ...
Growing up in Alaska
A Baby Arctic Tern
A baby Arctic Tern hatches in Alaska. He has much to learn: how to eat, how to swim, how to bathe. But his greatest wish is to FLY! A story of learning, growing and spreading your wings. More info-->
Amazon Barnes&Noble Library Order Form
Full color, 32 pages, available in paperback and hard bound. Kindle, Nook, and other ebook versions avialable.
Winter 2023 Publication
Adventures of Papa and Peanut by Danté Shalia Elkins
Fall 2022 Publication
Sik-Sik's Summer - An Arctic Ground Squirrel Tale by Constance Taylor and Wendy Kenny
Summer 2022 Publication
Arctic Dinosaurs of Alaska by Bonnye Matthews
Winter 2022 Publication
Saga of an Aviation Survivor by Howard John "Mike" Hunt
Fall 2021 Publication
Atlin Where Everyone Knows Your Dog's Name by Bradford D. Smith
Spring 2020 Publication
Alaska Cruise 1909 by Bertha Adele Penny (Author), Constance Taylor (Compiler)
April 2019 Publication
Living in Different Cultures by Tamar Frankel
November 2018 Publication
Pick Your Poison by Becky Hatcher Crabree
September 2017 Publication
Try and Be Somebody: The Story of Dr. Henry Lake Dickason
Becky Hatcher Crabtree with Merri Jackson Hess
August 2017 Publication
It Won't Stay Light Forever by Ed Weyhing
---
Make your own
Photo Booklet
Use an online form to create and print an 8 page booklet with your own images.